In Tableau, you do not have to do anything special to make a dashboard mobile. Simply publish to Tableau Server like you always have, and Tableau will detect if you're using the Mobile app. You even get the native touch experience if you go to Tableau Server from your mobile browser, without the app at all.
Ease of use is the single most important aspect of mobile business intelligence. When you're on the go, you need to be able to get to the data you need with a few taps.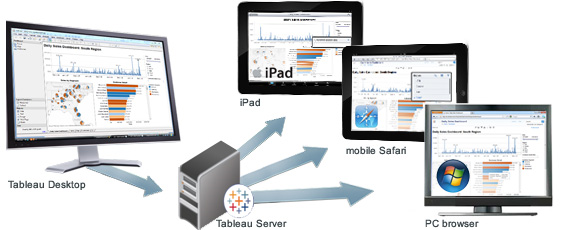 Filters: Tableau's controls such as filters, parameters, sliders, scrolling, and zoom & pan, are specially built to interact with your fingers. For example, tapping a filter pops a large, touch-optimized quick filter. And for long filters, there is scrolling inside the filter.
Views: Views themselves are touch-optimized with dynamic scrolling. Simply swipe to scroll through a long customers list, for example. Or pinch & zoom in a map.
The two major approaches for Mobility in Tableau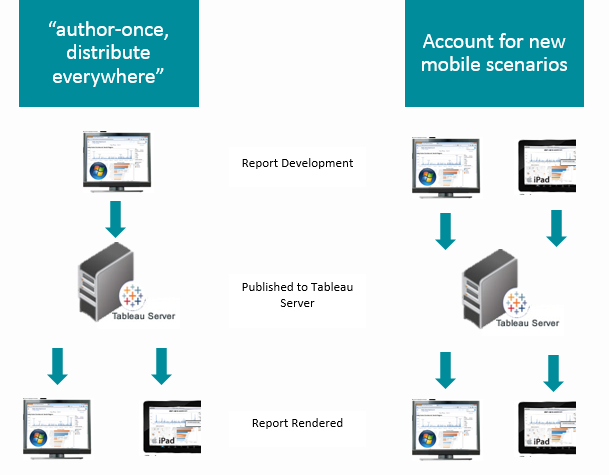 Security
Mobile business intelligence must be secure. With the Tableau mobile solution, security and metadata continues to be managed by Tableau Server. This means you can enforce your existing security protocols and integrate with ActiveDirectory via Tableau Server.
And if an employee loses their iPad or Android tablet, simply disable their Tableau Server account and give them a new one. No data other than descriptive data about a workbook (like the publisher, data modified and name) are stored on the device, so you can keep your data secure even while it's mobile.
Limitation
Write to a smaller form factor ["author-once, distribute everywhere"]
Smaller screen? You've got to use your space better. Place the most important view at the top of your dashboard. Be stingy with legends and filters, and for that matter views– limit your dashboard to 2-4 important views. 10 views in a dashboard doesn't work on the go!
Reference